Name: Kisu Mfalme Kubwa

Age: 3

Born: August

Rank: Lord

Alignment: Neutral Good

PvP:

Class: Guard (Lvl. 0) Sex: Male (Male)

Build: Large

Eye Colour: Blue

Fur Colour: White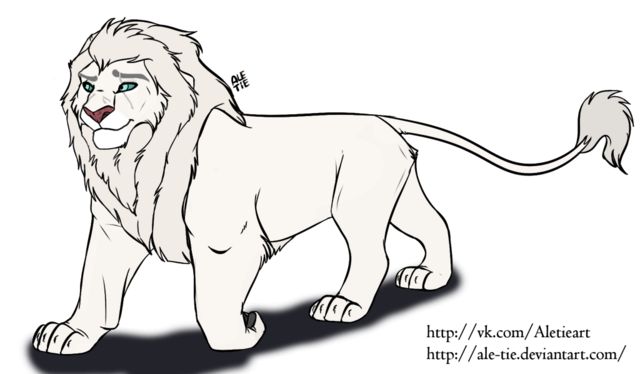 Much like his twin sister, Kisu is a large male, he has large, powerful legs and proportional torso. His face reminds me of a roman's, long and strong muzzle with piercing eyes. His body isn't too long at the length of 7'10. He holds power in all his movements and because of his large paws he isn't very good at stealth. Which is why he is a Guard. His movements are not necessarily fast, he swipes relatively slowly but when his blows land, they damage.
His pelt is a creamy white as his eyes are a glacier green, his sister envies him for his beautiful genetic mutation and loathes being next to him. His mane is almost done growing and even though not fully developed is still very full and large. His inner ear fur is a pure white. His mane is made up slightly darker creamy white but is relatively the same as his pelt. His eyes are rimmed with black so dark that it looks like eyeliner, much like his sister Taji's. His nose is pink with black splotches.
His has large amounts of scars on his face which counter with his face. Scars earned from ending fights with lions that Taji started. It was for this reason they do not speak to each other. His ears are a thick alabaster velvet and his tail is quite long and ends with a gray.Kisu cleans when necessary, he doesn't believe in vainly trying to smell good or bathe every day because dirt and grime gets on you regardless. This doesn't mean he is a pig and is unkempt, he just has a natural male gruffness
Kisu is a generally reasonable and genial brute, he is kind-hearted and has a soft spot for those in need. He doesn't necessarily enjoy fighting and won't start fights. He is innately a defender of the things he loves, the earliest examples of this belief is him fighting cats for his sister Taji. He doesn't like fighting but is actually pretty good at it as long as his heart is in it. He will blindly follow those he cherishes even if they're wrong. He is extremely loyal and trustworthy. If a stranger told him to keep a secret even though they would never see him again, he would.
While he can keep a secret till he dies, Kisu is surprisingly an amazing conversationalist and loves a good chat. He enjoys getting to know others even if it isn't necessarily seen as good. He doesn't quite understand the reason behind ignoring other prides or the illogical hostility between prides. When Kisu has a crush or attraction to a lioness, everyone will know. His whole demeanor will change, he will be very kind and try to impress his interest. He will attempt to show off his skills and mentality in hopes of gaining mutual attraction. However, Kisu is generally a modest boy. Kisu fears being alone forever, he hates isolation and begins to deteriorate. He misses his sister dearly and if he could, he would have her back in a heartbeat. When alone he will desperately try to meet other lions and sometimes will brashly walk up to lions or lionesses and be met with hostility.
Kisu also shares the same phobia of his sister Taji, the fear of deep waters and crocodiles. His fear of crocodiles isn't as severe as his sister's but swimming is. He hates how he can't breathe, is forced to move slower, and can't see below him. Swimming fills him with anxiety and he can barely swim. This happened when his younger brother Mfalme was taken under by a crocodile while they were playing in a river as cubs. It scarred him and he is lucky to be alive.
The only thing that could change Kisu's happy demeanor is the threatening of persons or things he loves, being alone, being betrayed, or heartbroken. He doesn't have a temper and is very patient, when he is most frustrated he will exhale and walk off to cool down. He attained this habit after and explosive argument broke out between him and his sister, resulting in her leaving him ultimately splitting up the pair and leaving him remorseful and alone.
Some of Kisu's favorite things are cubs and young adults like himself. He loves how innocent and playful children are and the stubborn curiosity invested in them. He loves teaching cubs lessons whether it be how to woo a girl or how to take down an opponent efficiently.
Kisu's strengths are working with others, staying level headed, taking orders, standing his ground, and fighting for what he believes in. His flaws are that he can be naïve when he loves someone and will fight blindly for them should he reach that point of love. He can be a hopeless romantic and can become very sidetracked should he cross the right female. He will try to save everyone and anyone. He sees the good in all lions even when it isn't there. He isn't very ambitious and sometimes that causes him to be seen as a target by other brutes, making him engage in unwanted fights in order to defend himself.
Sakakama- father, unknown +Takiti- mother, unknown
|
Mfalme- older brother, deceased Taji- older sister, alive

His parents are Sakakama and Takiti. Kisu was born as the youngest of a litter of three, him, Taji, and his brother Mfalme. Taji being the firstborn, Mfalme being the second and Kisu being the last. They were always an adventurous trio, Taji was unsurprisingly, the most troublesome while Mfalme was her sidekick. Kisu just came along so he wasn't alone and he didn't like it when they teased him.
From the start their parents favored Kisu for his white pelt which was considered rare in the small family pride. He wasn't the runt, Mfalme was, which naturally created sibling rivalry. Taji and his brother both hated the special treatment he would receive and envied his mutation. They would tease him and exclude him from many of their adventures and excursions. Whenever they were caught, the older two would get in more trouble than Kisu did rendering even more hate.
One day when they were all 4 months, they wandered away from the pride and towards the river to see the herds. Of course, they messed up the month and found no herds were there. Instead they swam, not realizing that the river was infested with hungry crocodiles awaiting on the wildebeests' arrival. The first to go in was Mfalme after being dared by Taji who in turned ended up swimming as well. Mfalme swam the farthest, halfway to the middle of the river. Wanting to impress his siblings, Kisu followed suit. As he got past the bank, Taji let out a scream as multiple crocodiles swarmed Mfalme. The water was stained red. Kisu turned in time to see Taji cry out as her tail was snapped. She lost the tip of it, she now has no tuft at the end. They returned home in which Taji was blamed for her brother's death. They shunned her and have never treated her the same since. It was even worse for there was no body to pay homage to and mourn in front of or be buried.
After this Taji became bitter, she resented Kisu even more but settled with him because he was the only one willing to be around her. Kisu had first fallen in love with a lioness at the ripe age of one year. He wooed her much to his woe, she was in love with him. However, an older lion wanted her and challenged Kisu for her in which he had to back down for he was dangerously at a disadvantage being younger, smaller, and inexperienced. IT broke his heart when she broke the news of her pregnancy. The same year he added his deceased brother's first name as his middle name.
Kisu was a social brute in contrary to Taji who had in a way, become an outlier. But by whose fault, no one knew. He felt bad and often tried to clear his sister's name or include her in but she spat back and drove cats away. She had gained the reputation of a venomous and untrustworthy lioness who wasn't worth time, Kisu had half a mind that that was what she wanted. Meanwhile Kisu was seen as the pride treasure. By the time he was nearly two years old he had lionesses trying to brush against him in amorous ways. But he never bred with any of them as he saw the other lions looking at him with jealousy. All the boy wants is peace.
It was Taji's idea to run away or leave the pride, in search of Valoria. Kisu was unhappy, feeling contained and unable to be himself or let loose. Taji was bored with everyone there and wanted to experience new sights but knew she couldn't survive without her brother's brute strength. She is a far better hunter than he and he is a far better fighter than she, they worked in unison.
However, on the border of Valeria, Taji and Kisu got in an argument as of what to do next. He wanted to join a pride, she wanted to stay as rogues for a little while longer for she wasn't ready for the restrictions of a pride once again. Bitter words were exchanged and then the sore topic of Mfalme and favorites and it became so explosive blows were thrown. Taji attacked Kisu in which Kisu had had enough and put her in her place, wounding her pride which was so used to bossing her baby brother around. Taji left shortly after that.
No one in Valeria knows what his true last name is. He only tells them his name is Kisu Mfalme.
After weeks or even a month of starvation, Kisu arrived famished on the rainforest pride's borders. He was welcomed with warm gestures and has stayed ever since. Through out his time there he has met many rogues, he finds it lonely.
Kisu has decided to fix the population issue within the pride by asking King Toshio for permission. Through out his time he has developed a strong friendship with Queen Essaerae.
*speaks broken Swahili
Who's Who
"most likely to fall in love with a stranger"- october 2019