Name: Taji Siki Kubwa

Age: 3

Born: August

Rank: Lioness

Alignment: Neutral Evil

PvP:

Class: Spy (Lvl. 0) Sex: Female (Female)

Build: Medium

Eye Colour: Orange

Fur Colour: Bronze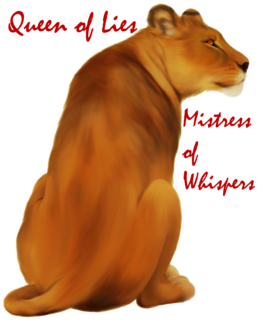 Taji is a slightly stocky lioness. , Her legs are much longer than her torso but far from slender. Her legs are thick and strong looking. She isn't really muscular like her brother but still holds the same power. She has her father's face and has a narrow face with a long muzzle that ends in a blocky triangle. Crowned with large round ears tipped in black. The inner fur is a cream color as the rest of her pelt is a rich orange-bronze. Her eyes are drastically different than her brother's blue optics because they are an deep amber color. Her tail is missing a large chunk and has no tuft from an accident with crocodiles when she was younger. Her nose is wide and black and her eyes are surrounded with thick black lining to where it looks like eyeliner. Under her eyes is a cream color as well as on her muzzle. She has light orange eyebrow dots and a cream underpelt that travels from under her jaw down her neck under her belly and ends at the base of her tail, her toe tips are covered in this color as well. Taji grooms herself every night before laying down to sleep.
she is just a anti-social, pessimistic, arrogant, rude, dishonest, insecure, spiteful, short-tempered, sometimes vulgar, liar, untrustworthy bitch Taji was never a kind-hearted cub. She was always seeking advantages over others and liking the feeling of control over another. She will go out of her way to learn secrets about someone for her own benefit and with put up a whole façade, pretending to be friends but in turn whisper secrets to someone she feels will give her something. She has a very short temper and a very sharp tongue when she isn't trying to get something out of a lion. She hates cubs and sees them as a burden. She doesn't flirt and hates lionesses who do so openly as well as show off for attention. Nothing pleases her more than saying a snide remark, calling them out on the behavior and ruining their game. This behavior stems from old and subconscious insecurities of hers because she feels she is not pretty. In reality, Taji is an acquired taste and relatively homely. Taji has a deep and innate phobia of crocodiles she sees one yards away and she will run. She can't swim and won't and if forced to she will panic. Because of this she often takes long times traveling through areas in Valoria in which short-cuts are through bodies of water. She misses having her brother at her beckoning call and protecting her. She doesn't miss his burdensome inability to hunt for himself and shut up. She somewhat despises Kisu and while she knows he loves her she only sees him valuable for what he is good at. Taji had never loved someone in her life. Not even her parents. Taji is extremely disloyal and will only keep her word when it benefits her. She is very, very ambitious and has no problem stepping on tails, infants, or stabbing lions in the back. She has many enemies because of this. She has no problem lying or spinning a terrible tale that any normal or morally correct cat wouldn't even think of. She isn't shy but dislikes other cats to an extent, she won't be chatty like her brother and cherishes her privacy within the vicinity of others so she is protected. She doesn't really have a goal other than rule a pride or reach the highest rank possible for lionesses within one. Although she probably won't make the best leader as she may lead her pride into war off of her own greediness. After all they aren't really fellow lions to her, only burdens. Taji's strengths are not allowing others to weaken her whatsoever, lying, forcing herself to like someone, her brutal honesty, and ability to get others to trust her. She would make a great "eyes and ears" for the curious cat who needed knowledge. Her weaknesses are that she never takes others into consideration, she is very greedy, perhaps over ambitious, she isn't the most articulate or diplomatic when she is being her true self. She also has a terrible habit of acquiring enemies wherever she goes. She doesn't care and that is dangerous.
Mfalme- older brother, deceased Kisu- younger brother, alive (unknown to her) Sakakama- father, unknown Takiti- mother, unknown ACQUAINTANCES: Morana-female- Shenai Canyon: dislikes a little
She was born to Sakakama and Takiti as their first-born child and only daughter out of a litter of three. The litter consisted of her, Kisu, and Mfalme her two younger brothers. She was the leader of the little trio and often came up with the ideas to embark to new, dangerous places. Whenever they were caught she was the one to be blamed and punished while the younger two got off easily. She despised both her little brothers for that but despised Kisu the most. Her mother paid most attention to him and her father boasted only about him. Because of this she grew closer to Mfalme with their share contempt. They managed to shove Kisu away, however he was so clingy he always trailed along somehow. The pride in which she grew up was a small, close knit community which didn't easily accept outsiders, other than cubs, often other than to breed to keep the gene pool new. The pride took up the name of the current leader, when she was born the pride name was Sakakama's Pride. She was raised in a land outside of Valoria and hated it. Same faces, same places. Her pride was relatively if not totally traditionalist. Only males could lead, females weren't really seen as valuable and imperative parts of a pride, ironically. This mentality was because very few males were born out of all the litters. At the time of their birth there was only 2 full grown males in the pride, her father and another. There were only 3 other male cubs out of 6 other litters of small numbers, so it was a good "omen" when Takiti birthed two boys and one being a pure white cub with blue eyes. Something only seen once years upon years ago. The pride nearly worshipped Kisu, and Taji hated it. She didn't understand how no one could see how he was the weakest of them all! She knew she was the strongest of the litter and often found herself wishing she was born a male because she would have been able to make her father proud that way. One day, she wanted to make her dad proud by hunting a wildebeest. A baby perhaps, of course she and her brothers were only 4 months, hardly a danger to a fly. But that didn't stop her, they traveled to the nearby Fonti river, not realizing that it was infested with starving crocodiles who hadn't eaten in a year and had awoken for their slumber at the coming of the herds. However, the cubs were a month early and were easy pickings. She was disappointed but didn't want to have traveled for nothing. She made Mfalme cross the river, goading him with hurtful names till he agreed. She didn't even bother with Kisu. Mfalme was almost halfway to the halfway point of the river, she realized that Mfalme could actually do her bet and didn't want him to receive all the glory. She jumped in and was surprised at how shallow the water was, every once in a while she was able to jump of the bottom. Little did she know she was disturbing crocodiles. It was too late for Mfalme, by the time her realized he was surrounded by hungry prehistoric creatures, he was being torn apart. Yards away Taji turned and swam as fast as she could. A croc snapped onto her tail, attempting to pull her back before it completely severed a large chunk of her tail. She only lived because all the crocs went to fight over Mfalme's body and her tail. Nothing was the same after that. She hated her parents even more. They scolded her, blamed her, and disowned her in a way. Her own mother wouldn't even look at her and Sakakama made himself more distant. She cocooned herself and accidentally fermented her emotions into spite and bitterness. She didn't like the lions in her pride, they were all idiots. She had no problem telling them so and quickly was ostracized. They nick-named her Siki for her words are sour and make them cringe. She kept it. But the lands of her home were boring. She saw that even Kisu began to dull, clearly feeling unfulfilled and overwhelmed. She saw her chance, Kisu was a soft-headed yes man and would accept. She proposed the idea of roaming around till they found Valoria. He agreed and off they went at 2 years. They roamed for months but when they finally reached Valoria they broke out in argument. Taji loved the freedom of roaming even if Kisu was a little bit of baggage. But Kisu was the clingy and separation anxious cub now as he ever was. They argued and petty blows were thrown. Kisu blamed her for Mfalme's death, she blamed him, she pointed out his flaws and he pointed out her deepest insecurity. "You're just mad because no one thought you were worth the time. You envy me because you were born the wrong gender, you were born to the wrong life. No one needs you. You know this and you try to hide it by acting like a bitch but everyone can tell. Everyone at our old pride stayed away from you because they felt bad not because you 'drove them away'. They named you 'Siki' out of a joke not true words. You think I can't see why you keep me around? You talk too much, fight your own fights from now on. I'm done earning scars because of you." She struck him and lost her temper utterly and completely. She striked her brother bashing his face and raking it with her claws. He wouldn't hit her until she brought up his first love, Maoni. Clearly Taji forgot that her baby brother surpassed her in all physical aspects, he easily overpowered her and pinned her down. He told her he wouldn't let her up till she calmed down like some whiny cub. It stabbed her pride and she walked away the very moment her released her. She hasn't seen him since and suspects he returned to their old pride or has died due to starvation. She doesn't lose sleep over either possibility.
she often gives false names because she likes the feeling of superiority she gets from knowing she successfully told a lie her mood is very unstable, she has trigger words