Joined: Feb 04, 2018

Local Time: Nov 12, 2018 at 12:34 PM

Message: Send Private Message

Total Posts: 425

Points: 294

PvP:

Other Characters:
Threadlog
Nybras Casimir's Profile
Name: Nybras Casimir

Age: 3

Born: January

Rank: Lioness

Alignment: Chaotic Neutral

PvP:

Class: Diplomat (Lvl. 2) Sex: Female ()

Build: Small

Eye Colour: Orange

Fur Colour: Red

Fire & Wings



Lesser demon publicizes the pleasures of hell
3'1 - 4'10 - 280lbs
Body: #721a21 Striped socks: #320b0e
Nose Blaze: #320b0e undercoat: #f6c09a
Nose: #a08c8c Mane/tail: #ffffff
Eyes: #b57915
red coat - dark red leg striped socks - white mane and tail - dark red nose blaze
Being a small lioness, Nybras makes up for it with having large personality, she can be sassy, she can be flirty, she can attempt to command. She refused to go unnoticed, if that means pushing her way forward then she does it. And if being pushy gets her called a bully, well, that's fine too. Raised as a Casimir, she is extremely family orientated, thought she has a habit of putting herself first, though it rarely effects the family as a whole. Nybras has a streak of bad luck that effects her just as much as as it effects those closest to her.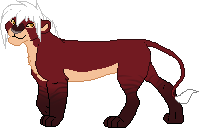 ::Sire xx Eligos Casimir
::Dam xx Tarien Tollaire

::Siblings
Nybras -- Leviathan -- Ravana

:: Cousins
Ifrit, Bael
Zinnober
::Children
First Litter
With Rahovart;
:: Nimue, Samael
With Toshio;
:: Iblis, Akuma
Nybras Casimir's Experience
Diplomat Experience
+3 invite someone to the pride who takes up your offer (
Siohban
)
+3 invite someone to the pride who takes up your offer (
Leviathan
)
+3 invite someone to the pride who takes up your offer (
Kasdeya
)
+3 invite someone to the pride who takes up your offer (Lysander)
+3 invite someone to the pride who takes up your offer (
Zinnober
)
+3 invite someone to the pride who takes up your offer (
Serephina
)
+3 invite someone to the pride who takes up your offer (
Rynbor
)
+2 observe a challenge (
Taj vs. Parvana
)
Nybras Casimir's Points Log
(10/18/18)
-200 - litter reroll (10/15/18)
-100 - Additional character slot
(8/22/18)
+10 - Making 200 posts
+1 - Recruiting a new pride member by invitation. (Kasdeya)
+1 - Recruiting a new pride member by invitation. (Siobhan)
+100 - Winning Character of the month (May)
+5 - Having cubs. (thread)
7/12/18
+1 - Recruiting a new pride member by invitation. (Leviathan)
+3 - Reaching 25 posts
+5 - Reaching 50 posts
+6 - Level up your class (1)
+7 - Reaching 75 posts. (side bar)
+10 - Becoming a pride leader (Queen under Leviathan)
+10 - Becoming a pride leader (High Queen LC)
+10 - Making 100 posts
Affiliates